Masayasu Uchida World of Paper Collage Art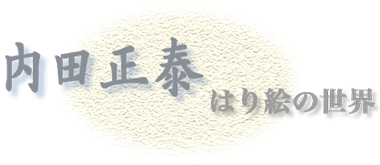 Gratitude!
The gallery marked its 4th anniversary. 2020 Calendar Information about private exhibitions in 2019





YouTube Movie





We have started to sell Mortar Tapestries!
Click here for further information



Masayasu Uchida Art Gallery

 Click here for further information

*Art Collection Books "Poems of Heart" and "Poems of Light and Wind" are on sale at the gallery and book stores.
*Original paper collage art works (B5 size), Piezographies and original post cards are available at the gallery in Kamakura.



Stop cirrocumulus

2002-2019 UCHIDA MASAYASU All rights reserved.